What We Offer
EDI Translation Software (EDI√Plus & √WEBPlus).
Support for all major international standards.
Support for any and all EDI implementation, but our focus in Australia is predominantly in the Retail, Automotive and Pharmaceutical Industries.
Solutions for Corporates (Hubs) e.g. Best & Less, Rapid Group, Hellmann Worldwide Logistics, E.D. Oates etc.
Solutions for Suppliers - we have several hundred implementations across several industries.
Networks
Our EDI Solution can communicate with Trading Partners and other EDI Solution Providers around the globe by various methods. Most common encrypted methods are sFTP, & AS2.
Zed√Plus
Our primary VAN service. This network includes all top tier and second tier retailers in Australia and New Zealand. Via Zed√Plus we can set you up with FTP, sFTP, FTPs or AS2 to your Trading Partner.
Net√Plus
A Secondary network via a Global 3rd Party VAN.
Value Added Services
We have a range of 3rd Party business partners that allow us to bring the "best of breed" right across the eCommerce spectrum:
Scan/Pack & Warehouse Solutions
ASN Creator by Double Z Computer
Vendor Connect by Paxar an Avery Dennison/Monarch Company
BizCom
Accellos One
The Ric Group Scan/Pack/Inventory add-ons for MYOB & EXO
Consignor by LSI etc.
Software Houses and Integrators
Over 50 relationships covering application houses including:
SAP
Markinson MoPro
Pronto
Harmony by FBS
Microsoft Dynamics AX, Nav & GP
Arrow
MYOB & EXO by MYOB
ACCPAC
Attache
QAD
Apprise
JIWA
JD Edwards
Red Prairie
Xero
M1
Infor M3 etc
Consulting and Implementation Services
We can assist with your:
EDI/eCommerce strategy
Define the messages and standards that best suit your organisation
Work with your I.T. people to "map" the EDI implementation to your inhouse systems
Develop "Message Implementation Guides" (MIGs) - the published rules and document structure required for people to trade EDI with you
Survey your supplier community and prepare a campaign to bring suppliers onto your project
Manage your ongoing EDI community
Retailers we trade with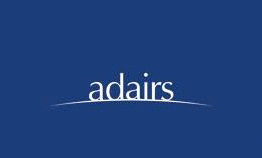 The below list is a list of Retailers you can immediately start trading with. The list is always growing. Please don't hesitate to enquire about any Retailer or Manufacturer not listed.
ABC Enterprises
Adairs
Aherns
AHGRL
Ahold
Albert Heijn (NL)
ALDI
Allens
Amart All Sports
Amazon Australia
Anaconda
API - Aust Pharma Ind.
ARL
ARW
Babies "R" Us (US)
BBC Hardware
Bed Bath & Beyond (US)
Best & Less Pty Ltd
Best Friends
BIC Services
Big-W
Blackwoods
Bras 'n' Things
Bunnings
Burlon
Cantarella
Champions IGA
Clipsal - Gerard Ind
Coles / GHPL
Colorado Group Ltd
Cornwell (US)
Costco
Coupa
David Jones
Davids SA Limited
Dymocks
ETOS (NL)
Farmers NZ
FCA - Fiat Chrysler Automobiles
Foodland
Foot Locker (AU/US)
Ford Motor Company
Franklins
Freedom Furniture
Frontline
GMO (General Motors CA)
GPC Asia/Exego/Repco Group
Harris Scarfe
Harris Technology
Harvey Norman
Hellmann
HMV CA
Holden Ltd
Home Express
House
ISN (US)
J.B. Hi-Fi
JD Sports - Glue Topman NEXT
Just Jeans
Kao Brands Australia
Klikk
Kmart
Lear (US/PH)
Lincraft
Lowes Manhattan
Mallory Group
Matco (US)
Mecca
Metcash
Millipore
Mitre 10
Mitsubishi Motors Australia
Mr Toys
My House
Myer
Nissan
Officeworks
Paccar (AU/US)
PFD Food Services
Pirelli Cables & Systems
Podium Sport
Priceline
Rapid Clean CO-OP Ltd
Rebel Sport
Red Bull (DE)
Reece Plumbing
Sears (US)
She Lingerie
Shopify
Sigma
Spotlight
Subaru America
Super D Inc (US)
Super Retail Group (SRG)
Symbion
Target
The Good Guys
The Iconic
The Kids Store Pty Ltd
The Warehouse NZ
Tom Browns
Toms Test
Total Tools
Toyota Motor Corporation
Toys "R" Us (US)
Trade Secret
Tradelink Plumbing Supplies
Volvo (SE)
Watsons (SG)
Wayfair (US)
Woolworths
Furniture and Hardware
Double Z has been supplying EDI software to the furniture and hardware industry for a very long time and as such has built into its EDI Software the highly specialized requirements of both these Industries.
Features like handling Big Ticket Items and Ultimate Delivery to the Retailers Customers are all handled with ease by EDIPlus. Additionally, our ability to interface seamlessly (at a realistic, affordable price), with most Accounting and all ERP Systems allows you not only to manage your EDI requirements but solves your problems of incoming and outgoing data in a simple and efficient manner.
So if you have requirements that your current EDI Software can't handle and need the healing touch of skilled professionals who have been doing this for decades, then ring us and let us solve your problems.
For more information about setting you up, whether you want EDI only, or bundled with Scan/Pack software, please contact us on 03 9521 2188 or email us and someone will contact you for you requirements.
3rd Party Warehouses
Double Z has been supplying EDI software to 3PLs for decades and has many 3PLs* using EDI√Plus around Australia and New Zealand.
Our software, EDI√Plus, has all the requirements that a 3PL needs to operate EDI trading easily and efficiently, including simple informative Invoices that clearly spell out each of your customers individual EDI costs.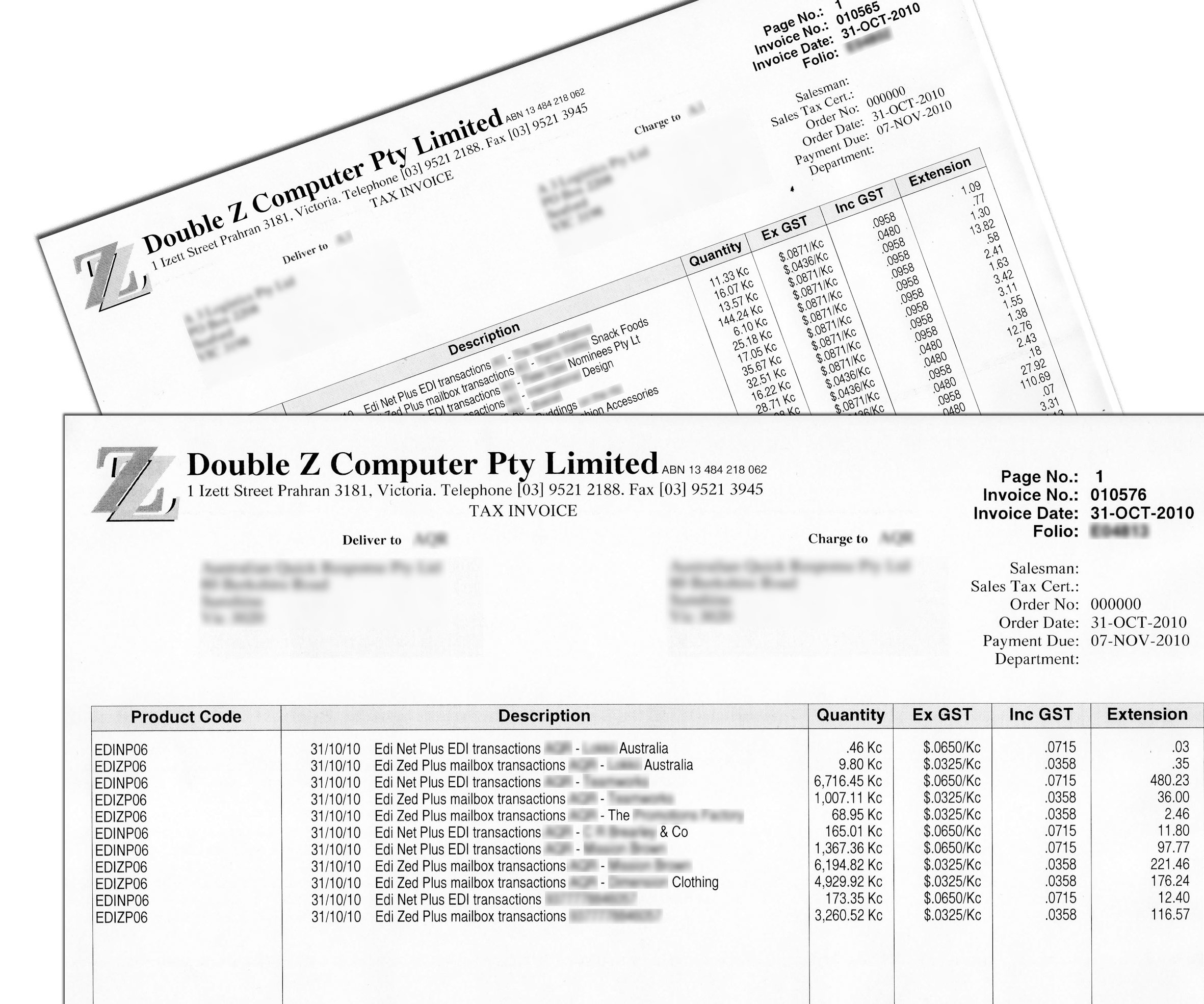 EDI√Plus integrates into all Accounting and ERP systems and can deal with any retailer anywhere in the world.
Additionally, as EDI√Plus allows for all methods of communication e.g. ftp, sftp, ftps, AS2, traditional VAN etc, it is very simple to set it up to interact with your customers ERP/Accounting/EDI systems.
EDI√Plus integrates into many Warehouse and Scan Pack systems to create a seamless flow of information for the smooth running of your Warehouse.
3 scenarios we can help you with are:
EDI√Plus ScanPack via ASN Creator
So what's the cost?
The total package will always be based on what you need at your site.
Do you require EDI only, ScanPack facilities or a full Warehouse Management System?
Do you need to trade with 1, 2 or 50 retailers?
Do you need automated emails advising your customers of incoming/outgoing Orders/ASNs?
Having stated the above, what we can GUARANTEE are low setup costs with the absolute lowest ongoing cost of any EDI Provider in Aus/NZ.
Oh, and we will never charge monthly fees, royalty fees etc for using EDIPlus on behalf of your customers.
For more information about setting you up, whether you want EDI only, or bundled with Scan/Pack or Warehousing, please contact us on 03 9521 2188 or email us and someone will contact you for you requirements.
* Some 3PLs using EDI√Plus: For The Rack, AQR, Hellman Logistics, Silk Logistics, Vance Clothing etc
Scan Packing
Picking, Scanning and Labelling Software
Vendor Connect Enterprise by Paxar is our Scan Pack software of choice for 3rd Party Warehouses. Vendor Connect Enterprise is a reliable and flexible product that complements EDI√Plus perfectly. So when bundled together, EDI√Plus and Vendor Connect Enterprise create the perfect Intergrated Solution for Supply Chain Management.
Vendor Connect Enterprise has the following features:
communicates seamlessly and automatically with EDI√Plus
imports Purchase Orders automatically from either EDI√Plus or ERP software
can import Sales and Inventory data for Warehousing and labelling requirements
can create a Picking Slip from EDI Purchase Orders (PO/ORDERS)
can create retail article labels from EDI Purchase Orders (PO/ORDERS)
can scan pack each EAN by store and verify against EDI Purchase Order (PO/ORDERS)
can automatically create SCM (Shipping Container Marking) or SSCC (Serial Shipping Container Code) label for transport unit
able to compile EDI Advance Shipment Notice/ Despatch Advice (ASN/DESADV) and automatically pass back to EDI√Plus
has Client / Server architecture
can be integrated into a much broader Warehouse management application by adding the "Vendor Connect Warehouse Manager" to "Vendor Connect Enterprise".
Warehouse Management Software
Warehouse Management Software
There are many alternatives for Warehouse Management Software and choices often reflect the following:
1. Size of your operation
2. Your wish-list of requirements
3. Your budget.
As such please ring us to discuss your requirements and we will either have an option available or we will be able to point you in the right direction.
For more information, please contact us on 03 9521 2188 or email us and someone will contact you for you requirements.